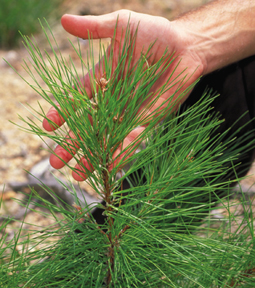 In Georgia, the SFI® program makes a difference at the grassroots level. The SFI Implementation Committee in Georgia works across the forestry community to support programs that improve the practice of sustainable forestry on all lands.
Highlights of SFI activities in Georgia since 1995:
Best Management Practices – SFI promotes Georgia Best Management Practices (BMPs) for Forestry that protect water quality working with the Georgia Forestry Commission and other state agencies.
Master Timber Harvester – SFI helps fund and staff the Master Timber Harvester Program, an educational program of the University of Georgia. Since 1995, more than 3,000 loggers and foresters have been trained. View list of Master Timber Harvesters now.  For a detailed look at the two-day introductory Master Timber Harvester Workshop, click here.
Wildlife Habitat – SFI works the Georgia Department of Natural Resources and the American Forest Foundation to highlight critical wildlife habitat needs and issues in Georgia. In fact, wildlife habitat was featured in an issue of the Georgia SIC's Sustainable Forests newsletter.
Landowner Outreach – SFI acknowledges the importance of family forest owners, that own 65% of the state's forests, and provides many Georgia landowners with information about sustainable forestry and the resources available to help them manage their forests sustainable. Request a landowner packet or download other landowner information now.
Environmental Education – SFI provides support for environmental educational efforts in Georgia, when it furthers the goals of the program.